Arthroplasty 2021 Meeting &amp Hospitality
Address
14th Intenational Conference on Arthroplasty and Arthroscopy
Dubai, UAE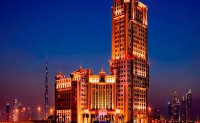 The City
Arthroplasty 2021: Join us in Dubai, UAE for the 14th International Conference on Arthroplasty and Arthroscopy on June 14-15, 2021
With the successful completion of 13th International Conference on Arthroplasty, we are glad to announce 14th International Conference on Arthroplasty and Arthroscopy which is going to be held in Dubai, UAE.
Dubai is the largest and most populous city in the United Arab Emirates (UAE). On the southeast coast of the Persian Gulf, it is the capital of the Emirate of Dubai, one of the seven emirates that make up the country. Dubai is a global city and business hub of the Middle East. It is also a major global transport hub for passengers and cargo.
Oil revenue helped accelerate the development of the city. A growing centre for regional and international trade since the early 20th century, Dubai's economy today relies on revenues from trade, tourism, aviation, real estate, and financial services. Dubai has attracted world attention through large construction projects and sports events, in particular the world's tallest building, the Burj Khalifa. Dubai has been called the "shopping capital of the Middle East". Dubai alone has more than 70 shopping centres, including the world's largest shopping centre, Dubai Mall.
We look forward to seeing you all in Arthroplasty 2021 and hopefully to enjoy the beauty of Dubai.
Directions
Route Map